People have been ignorant about the fact that Pakistan meets and delivers 75-85% of world's total football demand and consumption, annually, matching FIFA's standards at the highest degrees. With such high quality standards and such a vast quality supply, people still feel crossed on why this year, at the FIFA World Cup 2010, Pakistani balls were only used during the practice sessions by the official teams, and why not in the official matches. Not to forget, this year's official World Cup ball has come from China, known as Jabulani, meaning "rejoice" in the Zulu African language. The official World Cup ball of 2006, known as Teamgeist, meaning "team spirit" in the German language, was made in Pakistan and Thailand, mainly.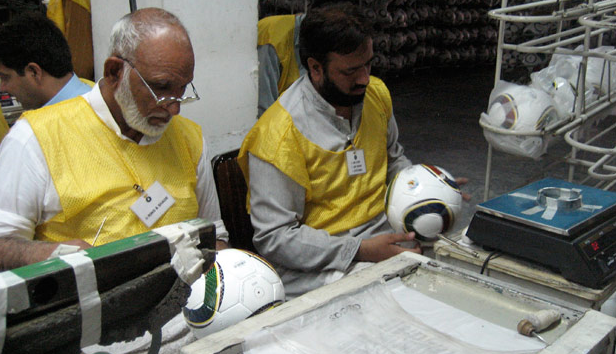 It's high time we compare Teamgeist to Jabulani, to see what advancements have been made and what edge has the successor got over its forerunner.
Teamgeist – Jabulani: Head to Head
| | | | |
| --- | --- | --- | --- |
| Properties | FIFA standards | Teamgeist | Jabulani |
| Circumference | 68.5 – 69.5 cm | 69.0 – 69.25 cm | 69.0 ± 0.2 cm |
| Diameter | ≤ 1.5% difference | ≤ 1.0% difference | ≤ 1.0% difference |
| Water absorption | ≤ 10% weight increase | ≤ 0.1 % weight increase | ≤ 0% weight increase |
| Weight | 420 – 445 g | 441 – 444 g | 440 ± 0.2 g |
| Shape and size retention | 2000 cycles at 50 km/h | 3500 cycles at 50 km/h | - |
| Rebound test | ≤ 10 cm | ≤ 2 cm | ≤ 6 cm |
| Loss of pressure | ≤ 20% | ≤ 11% | ≤ 10% |
Beyond the Technical Measurements

Teamgeist achieved its improvements by reducing the number of panels from 32 to just 14 panels, dubbed propellers and turbines, by thermally bonding the panels thereby eliminating inaccurate stitching and by forming the outer panels in 3-D versus making them flat and bending them into shape. Unlike on earlier balls, which were hand-stitched, these panels are glued — or rather thermally bonded, to use the Buck Rogers-like term favored by Adidas.
By reducing the number of places where panels touch each other, Teamgeist reacted three times more accurately when kicked, according to Adidas, which tested the ball by having a robotic kicking machine whack it against a wall a few thousand times.
Jabulani takes another step towards perfection with just eight EVA and TPU panels that provide a 70% larger striking surface due to fewer seams. While the Teamgeist ball was great for strikers, many goal keepers complained that the ball's aerodynamics created a lack of rotation in the air, making its path at times erratic, like a knuckleball. Jabulani attempts to stabilize the flight pattern of the ball through what Adidas is calling 'aero grooves', essentially long indentations along the panels. The grooves divide the ball up into additional pseudo-panels but by molding the grooves Adidas can achieve consistent location and shape to achieve optimal flight. The surface of the ball has also been covered with raised nubbins to help with tactile feel on the
foot.
The Jabulani ball is surrounded by GripnGroove technology, allowing it to be aerodynamically advanced. This provides flight characteristics not seen on any other ball. The makers have added little ridges that surround the ball in many circular shapes that can clearly be felt when holding it. Like the dimples that surround a golf ball, GripnGroove's function is to improve how the ball passes through air; basically it enhances how aerodynamic the ball is.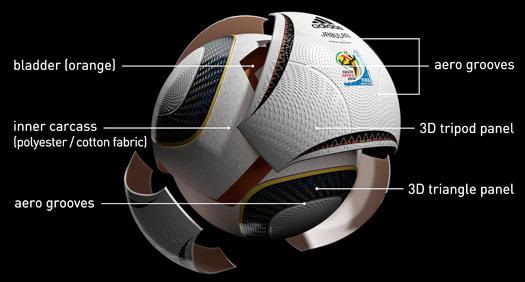 The problem is that the Jabulani holds up in the air longer than you can ever experience a soccer ball. Every time one tries to take it out of the air, it ends up landing several yards past where it was expected. Another great aspect to the Jabulani is the fact that it doesn't have noticeable panels keeping it together. You will be familiar with how you can feel the gaps in between each panel of a 32 panel ball. Well, with the Jabulani, each panel has been pieced together and thermally bonded, so that you don't get the same gaps in between panels. This leaves the ball a lot smoother, and is another key component to why it moves so fast.
Criticism from the Players

"The ball is dreadful. It's horrible, but it's horrible for everyone." – David James (England, GoalKeeper)
"The new ball is not decent, not just for goalkeepers but for everyone. Its trajectory is unpredictable." – Gigi Buffon (Italy, GoalKeeper)
"It's very weird. All of a sudden it changes trajectory on you. It's like it doesn't want to be kicked. It's incredible, it's like someone is guiding it. You are going to kick it and it moves out of the way. I think it's supernatural, it's very bad." – Luis Fabiano (Brazil, Striker)
"It's terrible… like a ball you'd buy in a supermarket." – Julio Cesar (Brazil, GoalKeeper)
"It's a little sad that in a competition as big as the World Cup to have such a poor ball. It's not just the goalkeepers complaining, but the outfield players as well." – Iker Casillas (Spain, GoalKeeper)
Critics and commentators have also criticized Jabulani's nature of flying just a bit too much, making it fly over the cross bar, for almost all world class strikers in this World Cup.
This was, rather an impartial comparison of FIFA World Cup 2006 ball, Teamgeist, made in Pakistan and Thailand, and the FIFA World Cup 2010 ball, Jabulani, made in China. You decide whether Jabulani is a blessing or a curse!