Ever imagined if every mosque you go, had a WiFi (or Wireless LAN internet connection) for you to make us of? Won't it already make the mosque a heaven on Earth?
Here we have a few of the possibilities. Choking Hazard. Serious people read on their own risk.
It Could be THIS, Coming Straight from the Mosque! And That Too, On a Friday!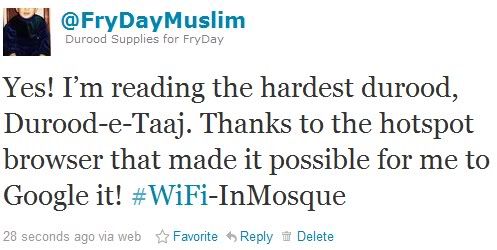 Or Just Another FourSquare Fanatic!
You Do Know About Such Parents, Don't You! Imagine Them With the WiFi Facility!

It Could Be an Angel Checking-In Too!
And It Could Be More Between Angels!

Last But Not Least. Well, You Do Hear This Every Friday, Don't You? Imagine This Announcement Coming Over the Fan Page, Live via WiFi!